---From 22 November to 16 December, the Seminar on Small Hydropower Technology for Rwanda sponsored by the Ministry of Commerce of China and organized by HRC was held online successfully. 137 participants from Rwanda Energy Group, University of Rwanda, Sustainable Agriculture and Livestock Initiative (SALI) and other local utilities and universities attended this rewarding event. It is the 126th international training program implemented by HRC since its establishment, as well as the 6th one conducted for Rwanda starting from 2015.
During the seminar, participants listened to the presentations covering the technology, practice and experience in the field of renewable energy in China inclusive of SHP and solar energy, and carried out online visits to South-to-North Water Diversion Project, Water Conservancy System in Liangzhu Ancient City, Tianhuangping Pumped Storage Power Plant, Yucun Village with Green Development, NARI Group Corporation, National Water Museum of China, etc. In addition, further bilateral cooperation on SHP was discussed in details, and traditional culture was shared via the rich activities, such as daily Chinese learning, the appreciation of Chinese paper-cutting, etc.
Mr. Xu Jincai, Director General of HRC was present at the closing ceremony and delivered a speech, extending his sincere thanks to all participates for their great efforts and kind cooperation during the seminar, and warm congratulations also went to them for the fruitful achievements. Certificates were issued and distributed to the participants.
2021 marks the 50th anniversary of the establishment of diplomatic relations between the Republic of Rwanda and the People's Republic of China. This is a milestone in further advancing the solid partnership between the two countries on the basis of steady development of bilateral relations since the establishment of diplomatic ties. Entrusted by the Ministry of Commerce of China, and invited by Rwanda Energy Group, HRC has implemented 6 training programs on SHP, rural electrification and renewable energy for Rwanda since 2015, with the participation of 318 local professionals in the field of electric power, energy and water conservancy. Meanwhile, technical consultations were also provided for dozens of projects concerning river basin planning, SHP development and reconstruction in Rwanda. With a wide range of participation, rich content, and fruitful results, the training programs have won unanimous praise from the competent authorities and partners in Rwandan, making positive contributions to jointly promoting China-Rwanda cooperation and friendship and further deepening the bilateral relations. (2021-12-24)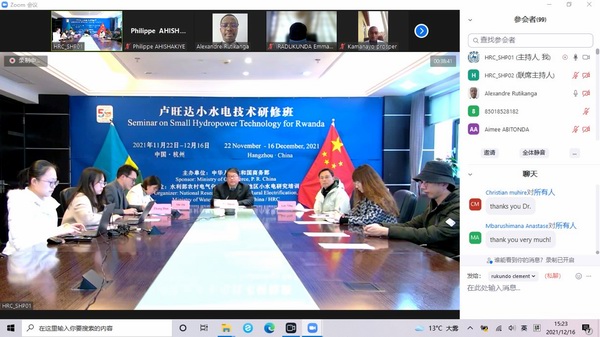 Closing Ceremony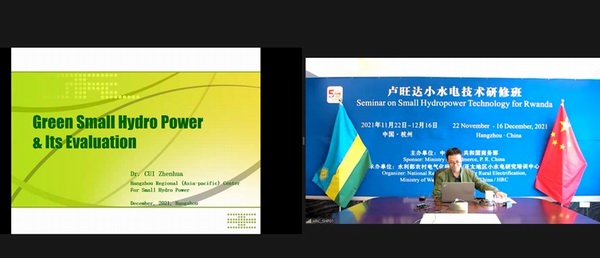 Technical Presentation by the Chinese Expert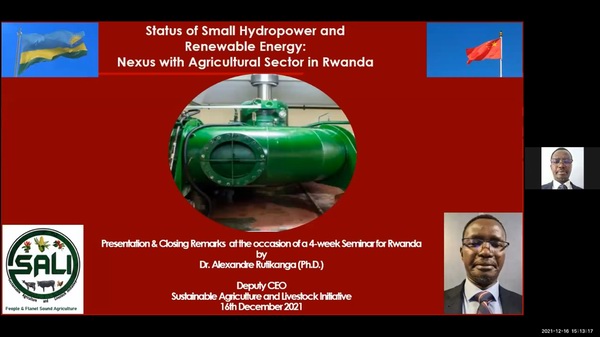 Presentation & Closing Remarks by the Representative of Participants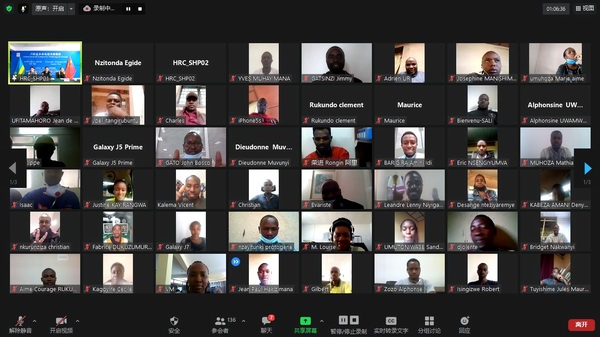 Online Group Photo