---Sponsored by the Ministry of Commerce, P.R. China, and jointly organized by Hangzhou Regional Center (Asia-Pacific) for Small Hydro Power (HRC) and Research Center on Rural Hydropower Engineering Technology, the Ministry of Water Resources of P.R. China, Seminar on Green Economy and Environment Protection for Developing Countries was successfully kicked off online on 3 November 2021. It is the 125th training program since the establishment of HRC, and was attended by 97 officials and engineers from 19 countries including Afghanistan, Angola, Azerbaijan, Bangladesh, Cambodia, Ethiopia, Ghana, Malaysia, Mongolia, Morocco, Nepal, Pakistan, Panama, Rwanda, Sri Lanka, Thailand, Uzbekistan, Vietnam and Zambia.
Mr. Huang Jianping, Deputy Director General of HRC delivered a speech on behalf of the organizers at the opening ceremony, extending the warmest welcome to all the officials participating in the seminar. At present, developing green economy has become an important trend worldwide. Green economy will not only help countries step out of the current economic recession and increase employment opportunities, but also will lead to sustainable global economic growth. In China, green economy has also been essential to China's development. During the 13th Five-Year Plan period, China has made huge progress in green development and environment protection. On the United Nations General Assembly (UNGA) in New York in 2020, Chinese president Xi Jinping announced that China aims to have CO2 emissions peak before 2030 and achieve carbon neutrality before 2060. Whereas, the vast majority of developing countries are still at the stage of extensive and high-carbon development, and will need to gradually transform from the traditional economic development model to the low-carbon, resource-intensive and socially inclusive green economy to achieve structural growth. There is no doubt about the strong need for cooperation between China and other developing countries in the field of green economy. So, through this seminar, China's achievements and practices in green development will be shared and also the communication between China and other developing countries will be effectively promoted.
Dr. Adanech Yared Jillo from the Ministry of Water and Energy, Ethiopia addressed on behalf of all the officials, expressing their heartfelt gratitude to the Chinese government for the great support. She mentioned that Seminar on Green Economy and Environmental Protection for Developing Countries is a timely agenda when leaders of the world gathered at the 2021 United Nations Climate Change Conference, COP26, to discuss on challenges and coping mechanisms to curb/control the impacts of climate change. In this regard, developing countries require support from the developed world and visionary countries like China. This kind of seminar, which links the economy with environmental protection, has a paramount importance in raising the awareness of experts that later reach out the public. As it can be seen from the seminar schedule, a lot can be learned from China's experience, which later be translated to each country.
The 14-day seminar aims at the extensive exchange and sharing of the updated technology and the management practice in the field of green economy and environment protection via technical presentations, online visits and discussions.(2021-11-05)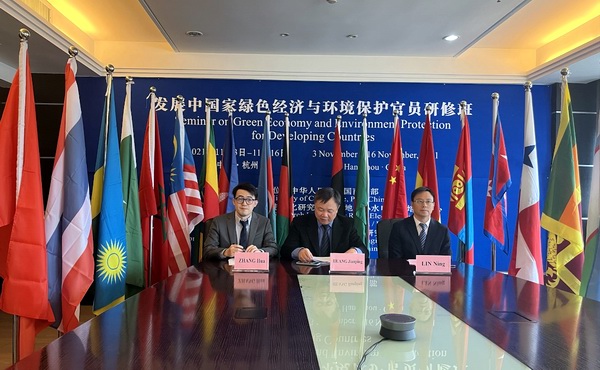 Opening Ceremony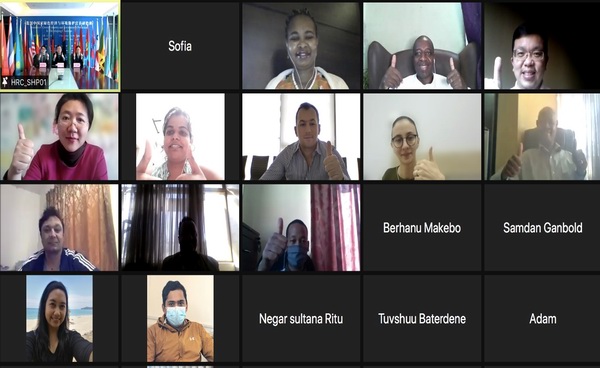 Online Group Photo