---On 27 October 2021, the Ministerial Workshop on Water Resources Management and Socioeconomic Development for Developing Countries was concluded with full success. Co-sponsored by the Ministry of Commerce and the Ministry of Water Resources, P.R. China, and jointly organized by Hangzhou Regional Center for Small Hydro Power (HRC) and International Science and Technology Cooperating Base of Renewable Energy and Rural Electrification in Zhejiang Province, this workshop is the 124th international training program implemented by HRC since its establishment, with the participation of 100 minister-level and senior officials and experts in the field of water resources management and socioeconomic development from 16 countries in the world.
At the closing ceremony, Mr. Dong Dafu, Deputy Director General of HRC, delivered a speech on behalf of HRC, extending the warmest congratulations to all the officials and making a comprehensive summary of the implementation of the workshop. The in-depth discussions and technical exchanges have been carried out cordially among all the participants and the professionals in China, which strengthened mutual understanding and would be helpful to future cooperation. HRC enjoys a good reputation as "the Family of SHP in the World", and it is highly expected that the COVID-19 will finish in the near future, and all the officials are warmly welcome to visit China at that time.
Mr. Elaraby Mohamed Elkashawy, an official from the Ministry of Water Resources and Irrigation of Egypt addressed on behalf of all the officials, expressing their sincere gratitude to the Chinese Government for the continuous support and kind assistance to other developing countries, and also to the sponsors and organizers for their efforts in accomplishing the workshop. By means of the keynote report, presentations, discussions and online visits, the management methodologies, policies and practices in the field of water resources in China have been shared, the experience and practice concerned in the participating countries have also been exchanged, which commonly strengthened the capability for the management of water resource and the promotion of socioeconomic development. More bilateral & multilateral cooperation among China and participating countries is highly expected in the near future.
After the lively and enthusiastic online group photo, the workshop ended successfully with the best wishes. It is believed that, based on the joint efforts, more concrete cooperation in the field of water resources will be implemented to promote the sustainable socioeconomic development in all the participating countries. (2021-11-05)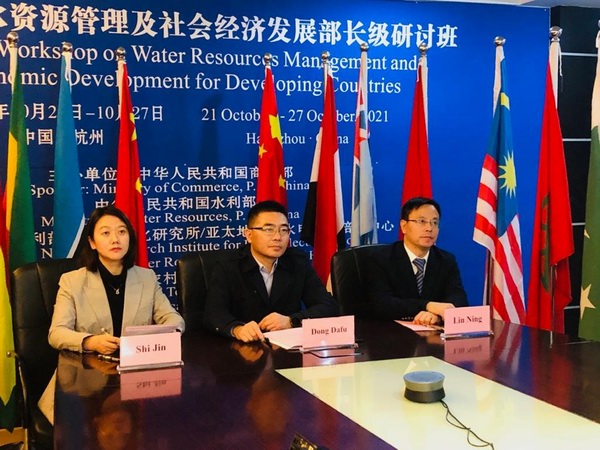 Closing Ceremony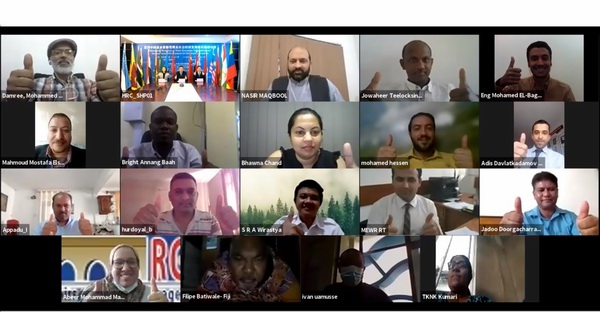 Online Group Photo