---Co-sponsored by the Ministry of Commerce and the Ministry of Water Resources, P.R. China, and jointly organized by Hangzhou Regional Center for Small Hydro Power (HRC) and International Science and Technology Cooperation Base of Renewable Energy and Rural Electrification in Zhejiang Province, the Ministerial Workshop on Water Resources Management and Socioeconomic Development for Developing Countries successfully kicked off online on 21 October 2021. One hundred minister-level and senior officials and experts in the field of water resources management and socioeconomic development from Botswana, Egypt, Ethiopia, Fiji, Ghana, Indonesia, Kurdistan Regional Government of Iraq, Malaysia, Mauritius, Morocco, Mozambique, Pakistan, Tajikistan, Uzbekistan, Sri Lanka, Venezuela took part in the significant event, and carried out extensive exchange and in-depth discussion concerned.
The opening ceremony was presided over by Mr. Xu Jincai, Director General of HRC. Mr. Li Ge, Deputy Director General, Department of International Cooperation, Science and Technology of the Ministry of Water Resources, P.R. China, Mr. Wu Shiqiang, Vice President of Nanjing Hydraulic Research Institute, Mr. Wang Jinhua, Deputy Director of Outbound Investment and Economic Cooperation of Zhejiang Department of Commerce, and Ms. Zhu Shaoying, Deputy Director of Science and Technology, Department of Water Resources of Zhejiang Province presented at the opening ceremony and delivered speeches. Mr. Li Ge also made a keynote report titled "Water Resources of China", which detailed the main features of water resources, achievements of water departments, water security challenges, and the water conservancy strategy in the new era and international cooperation on water management.
Ms. Gifty Benson Adjei, Deputy Director of Research, Statistics and Information Management Directorate (RSIM), Ministry of Sanitation and Water Resources, the Republic of Ghana addressed on behalf of all the participants, expressing their sincere gratitude to the Chinese government for the continuous technical support, collaboration and coordination in areas of national development and capacity building over the years. It was mentioned that the training workshop can be considered as a knowledge sharing and learning platform which brings together various stakeholders across the globe to share, acquire and equip themselves with adequate information, knowledge and best practices from their respective countries. It is strongly believed that the attainment of this practical knowledge may greatly influence policy formulation and effective strategies to implement them. In addition, it was mentioned that the developing countries are underpinned by the fact that effective management of natural resources especially the water bodies adversely influences the socioeconomic development. It is the fervent hope that at the end of the workshop, all participants would enhance and broaden their knowledge in the activities that would help conserve and save the depleting water bodies in a sustainable manner.
The 7-day workshop is to be implemented by means of presentations, online visits and discussions. The academician of Chinese Academy of Engineering, the former Chinese ambassador to New Zealand and the Cook Islands, and Sweden, the experts from the Institute of Hydroecology, Ministry of Water Resources and Chinese Academy of Sciences, the Water Development Planning & Research Center of Zhejiang Province, and the Construction and Administration Bureau of South-to-North Water Diversion Middle Route Project are invited to deliver presentations. The online visits will be paid to National Water Museum of China, Water Conservancy System at Liangzhu Ancient City, and Yucun Village with green development.(2021-10-27)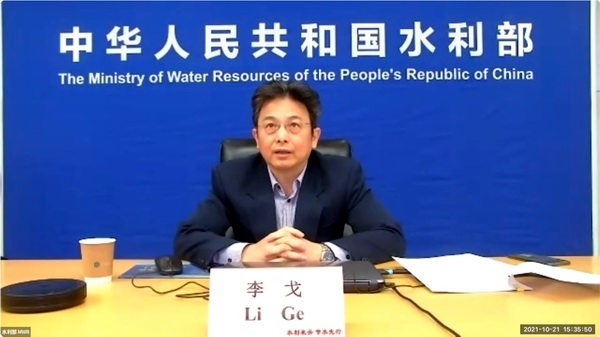 A keynote report delivered by Mr. Li Ge, Deputy Director General, Department of International Cooperation, Science and Technology, Ministry of Water Resources, P.R. China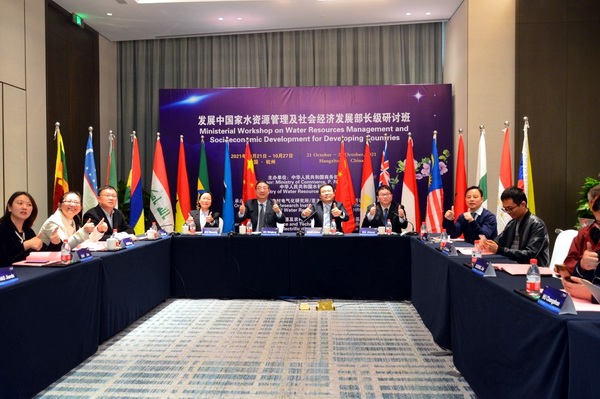 Opening Ceremony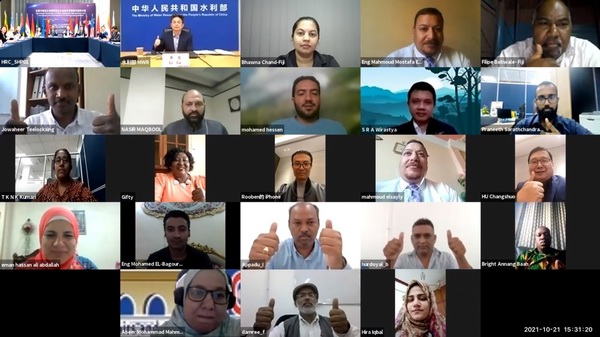 Online Group Photo