---On 28 September 2021, the Seminar on Electrification Mode Based on Clean Energy for Belt and Road Countries, sponsored by the Ministry of Commerce of China and jointly organized by Hangzhou Regional Center (Asia-Pacific) for Small Hydro Power (HRC) and Human Resources Training Base for Belt & Road Initiative, the Ministry of Water Resources, P.R. China, was concluded with full success. It is the 123rd international training program implemented by HRC since its establishment, with the participation of 86 officials from 18 countries, including Azerbaijan, Cambodia, Ghana, Indonesia, Iraq, Kiribati, Laos, Mongolia, Morocco, Nepal, Pakistan, South Africa, Tunisia, Uzbekistan, Venezuela, Vietnam, Zambia and Zimbabwe. During the seminar, extensive exchange and sharing of the updated technology and the management practice in the field of clean energy and rural electrification were carried out via presentations, online visits, online cultural experience and discussions.
At the closing ceremony, Mr. Lin Ning, Chief of Foreign Affairs and Training of HRC, summed up and extended his congratulations to all the officials for the fruitful achievements. It is highly expected that the officials will play more active roles in the development of clean energy and the construction of rural electrification in their own countries. With joint efforts, multilateral cooperation will be further enhanced for promoting the common development.
On behalf of all the officials, Mr. Khorommbi Bongwe, Director General of the Department of Mineral Resources and Energy of South Africa and Ms. Hasanova Gunay, Chief Specialist of Azerenergy OJSC of Azerbaijan addressed respectively, expressing their sincere gratitude to the Ministry of Commerce of China, Human Resources Training Base for Belt & Road Initiative, Ministry of Water Resources of China and HRC for organizing this rewarding event. Based on the technical presentations, online visits and in-depth discussions, the technology was updated, the experience was shared, and the prospect of future cooperation was becoming brighter. The seminar was warmly welcome and highly evaluated by all the officials.
At the end of the ceremony, the online group photo was taken. Smiling faces were filled with sincerity and happiness. Heart to heart and side by side, the joint efforts will be made to promote the future cooperation and common development in the field of clean energy for Belt and Road countries.(2021-10-13)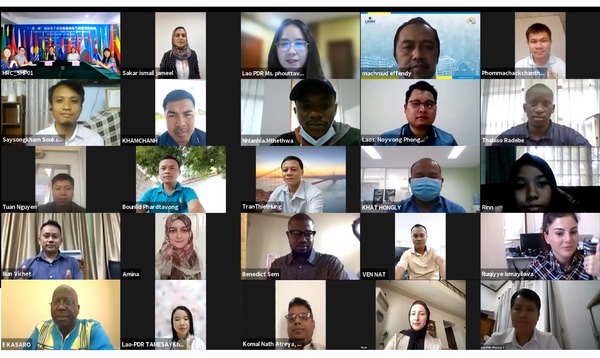 Online Group Photo