---On 16 September 2021, the Seminar on Electrification Mode based on Clean Energy for Belt and Road Countries, which is sponsored by the Ministry of Commerce and jointly organized by Hangzhou Regional Center (Asia-Pacific) for Small Hydro Power (HRC) and Human Resources Training Base for Belt & Road Initiative, the Ministry of Water Resources, P.R. China, was successfully kicked off online. Ms. Xu Jing, Deputy Director General, International Economic & Technical Cooperation and Exchange Center, Ministry of Water Resources, P.R. China and Mr. Xu Jincai, Director General of HRC were present at the opening ceremony.
On behalf of the Human Resources Training Base for Belt & Road Initiative, Ms. Xu Jing extended her sincere welcome to all of the participants for attending the online seminar despite the impact of the coronavirus pandemic. In her speech, Ms. Xu mentioned that through years of development, China has become the world's largest producer and user of renewable energy, and has also actively provided Belt and Road Countries technical support and services regarding clean energy. The Ministry and the Chinese water and hydropower enterprises have carried out project cooperation in over 70 countries and regions, including Laos, Cambodia, Pakistan, Indonesia, Angola, Senegal, Ecuador, Peru, etc., and the projects covered river basin planning, hydropower development, irrigation, water supply, flood control and water conservation. It's highly expected that this seminar can facilitate experience sharing between China and Belt and Road Countries in the fields of clean energy development and electrification.
Mr. Enkhtaivan Bayarjargal, Chief Engineer, National Renewable Energy Center of Mongolia and Mr. Beni Suryadi, Senior Manager, ASEAN Center for Energy delivered a speech respectively on behalf of all the participants. They expressed their sincere gratitude to the Ministry of Commerce of People's Republic of China for sponsoring the seminar, and also conveyed their highest appreciation to HRC and the Training Base for organizing this important seminar. They were delighted to learn that the seminar would be convened to present expertise and practice in the field of clean energy such as small hydropower, solar energy and wind power etc., and provide suggestions on the development and management of clean and renewable energy for Belt and Road Countries. It is believed that the seminar would provide an excellent platform for technical exchange and cooperation, and facilitate the sharing of technology and experience, as so to promote the common progress of the Belt and Road Countries.
On behalf of HRC, Director General Xu Jincai extended his warm welcome and cordial greetings to all distinguished guests and friends. In 2013, President Xi Jinping proposed the Belt and Road Initiative and over the past eight years, the Belt and Road Initiative has evolved from a concept into real actions, and the fast-growing and fruitful Belt and Road cooperation achievements have been made by China together with those participating countries. Clean energy and rural electrification are important contents of the cooperation on capacity building and infrastructure construction between China and Belt and Road Countries. In recent years, for addressing climate change and achieving carbon neutrality, China has made unremitting efforts in promoting the development of clean energy, especially hydropower, wind power and solar energy and scored enormous progress, the experience of which could be shared with other Belt and Road Countries. This seminar will provide a platform for the countries along the belt and road to fully discuss and communicate in the field of rural electrification and clean energy, focusing on the exchange of updated technology and management practice.

This seminar is the 123rd international training program that HRC have implemented since its establishment. The 14-day seminar aims at the extensive exchange and sharing of the proven technology and the management practice in the field of clean energy and rural electrification via presentations, online visits and discussions. Totally 84 officials, experts and representatives of enterprises from 18 countries, including Azerbaijan, Cambodia, Ghana, Indonesia, Iraq, Kiribati, Laos, Mongolia, Morocco, Nepal, Pakistan, South Africa, Tunisia, Uzbekistan, Venezuela, Vietnam, Zambia and Zimbabwe attended the seminar.(2021-09-26)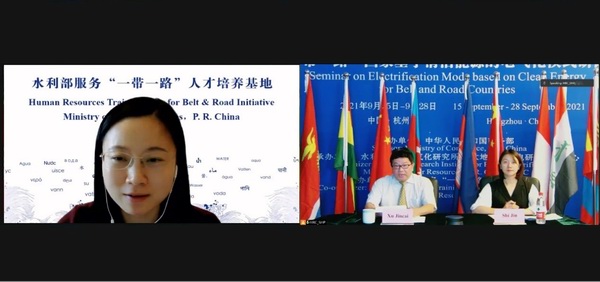 Opening ceremony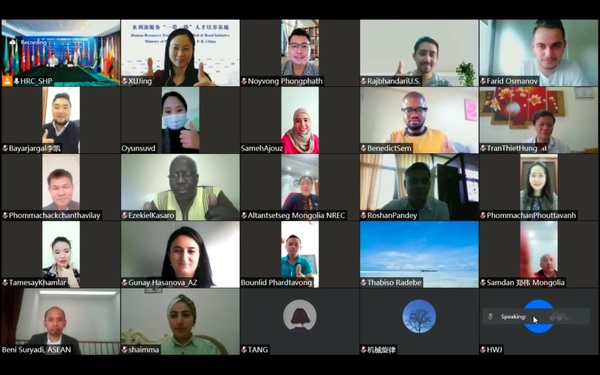 Online group photo